CIHR COVID-19 Investments: By the Numbers
Since the start of the pandemic, CIHR has invested $394.3M in COVID-19 research, to which partner organizations have added $20.5M, for a total investment of $414.8M. These funds have been used to support 965 research grants. The majority of this funding has come from one-time investments in CIHR from the Government of Canada specifically for COVID-19 research.
These figures are current as of June 1, 2022, and will be updated as new investments are announced.

Investment breakdown

Long Description

| Competition | Amount Invested |
| --- | --- |
| Second COVID-19 Rapid Research funding competition (April 2020) | $123.5M |
| First COVID-19 Rapid Research funding competition (February 2020) | $55.3M |
| Emerging COVID-19 Research Gaps and Priorities I | $41.2M |
| Emerging COVID-19 Research Gaps and Priorities III | $26.4M |
| Emerging COVID-19 Research Gaps and Priorities II | $18.7M |
| Mental health operating grants | $10.3M |
| Understanding/mitigating impacts of COVID-19 on children, youth, and families | $10.1M |
| Coronavirus Variants Rapid Response Network (CoVaRR-Net) Extension | $9M |
| Network for Emerging Variants | $9M |
| Canadian Network of COVID-19 Clinical Trials Networks | $6M |
| Supplementary funding – COVID-19 variants | $3.6M |
| COVID-19 Vaccine Confidence | $3.6M |
| Canadian Treatments for COVID-19 (CATCO) trial | $3.6M |
| Canadian Immunization Research Network – vaccine readiness | $3.5M |
| CATCO Scale-Up COVID-19 Supplement | $3.5M |
| Strengthening Pandemic Preparedness in long-term care homes | $3.2M |
| Canadian International COVID-19 Surveillance Border Study | $2.5M |
| Mental health knowledge synthesis grants | $2.2M |
| Evaluation of Harm Reduction Approaches to Address to Opioid Crisis during COVID-19 | $3M |
| Indigenous COVID-19 Rapid Research Funding Opportunity | $2.1M |
| Supplementary funding – COVID-19 variants | $1.8M |
| Canadian Longitudinal Study on Aging (CLSA) | $1.2M |
| COVID-19 Evidence Network to support Decision-making (COVID-END) Extension | $1.1M |
| Canadian Research Initiative in Substance Misuse (CRISM) urgent guideline activities related to COVID-19 | $1M |
| Knowledge synthesis network | $1M |
| Canadian Immunization Research Network (CIRN) | $997,683 |
| Supplementary funding: Sex as a biological variable | $664,712 |
| GA4GH Genomic Data Sharing Tools Against COVID-19 | $650,000 |
| College and Community Innovation Program – Applied Research Rapid Response to COVID-19 | $300,000 |
| Canadian Venous Thromboembolism Research Network (CanVECTOR) and Canadian Critical Care Trials Group | $300,000 |
| Frailty | $297,215 |
| Legal frameworks for vaccination | $240,731 |
| Rapid Funding for DSEN Targeted Research | $135,808 |
| Science Up First | $1.1M |
| COVID-19 Research Gaps and Priorities | $4.6M |
| Canadian Pediatric COVID-19 Research Platform | $6.7M |
| Respiratory Health Effects of Long COVID | $159,000 |
| Addressing the Wider Health Impacts of COVID-19 | $44.3M |
| Indigenous COVID-19 Rapid Research Funding Opportunity II | $3.5M |
| Canadian Network of COVID-19 Clinical Trials Networks (CNCCTN) Extension | $4M |
Timeline of investments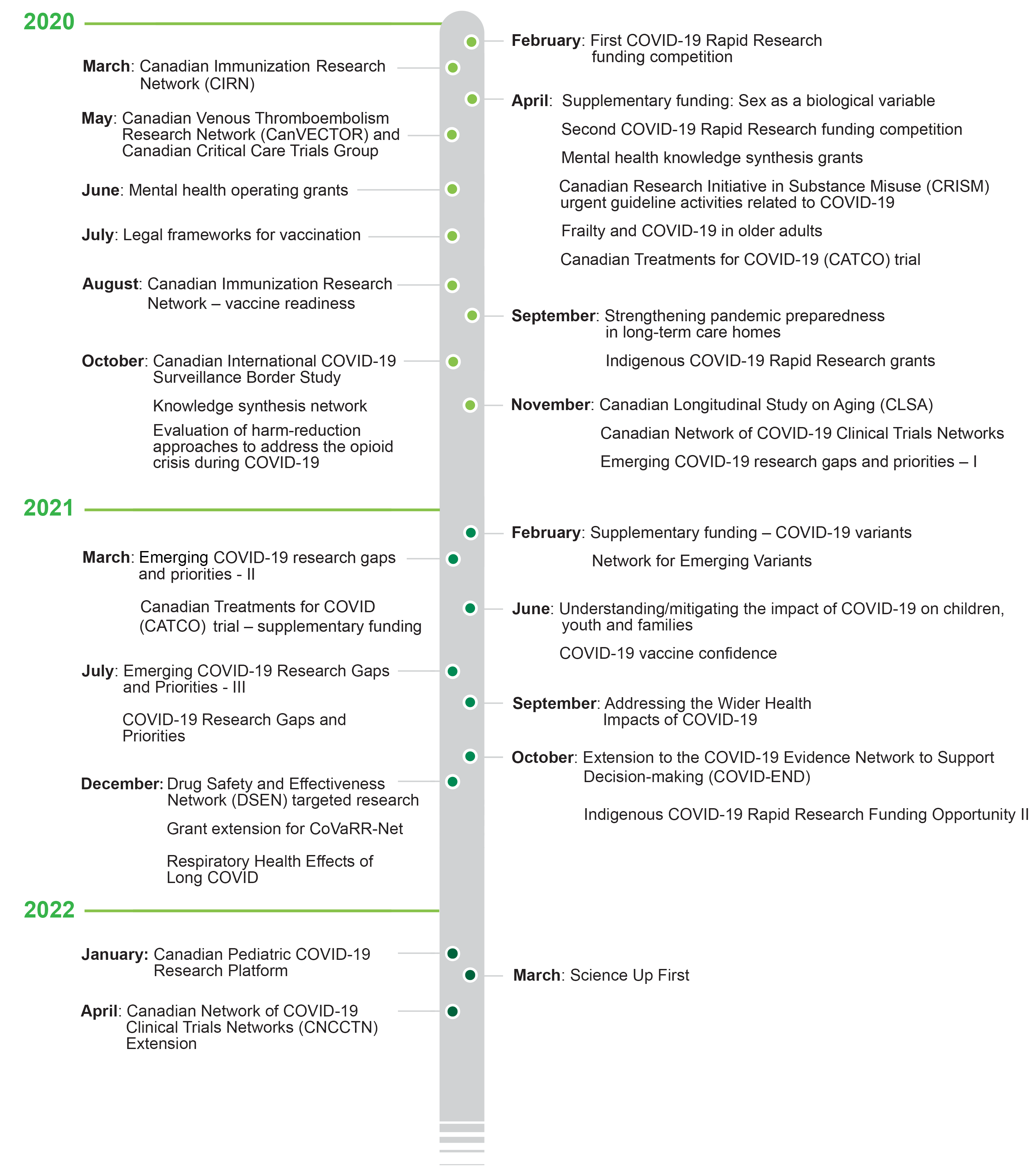 Long Description

| Competition | Launch Date |
| --- | --- |
| First COVID-19 Rapid Research funding competition | February 2020 |
| Canadian Immunization Research Network (CIRN) | March 2020 |
| Supplementary funding: Sex as a biological variable | April 2020 |
| Second COVID-19 Rapid Research funding competition (April 2020) | April 2020 |
| Mental health knowledge synthesis grants | April 2020 |
| Canadian Research Initiative in Substance Misuse (CRISM) urgent guideline activities related to COVID-19 | April 2020 |
| Frailty and COVID-19 in older adults | April 2020 |
| Canadian Treatments for COVID-19 (CATCO) trial | April 2020 |
| Canadian Venous Thromboembolism Research Network (CanVECTOR) and Canadian Critical Care Trials Group | May 2020 |
| Mental health operating grants | June 2020 |
| Legal frameworks for vaccination | July 2020 |
| Canadian Immunization Research Network – vaccine readiness | August 2020 |
| Strengthening pandemic preparedness in long-term care homes | September 2020 |
| Indigenous COVID-19 research | September 2020 |
| Canadian International COVID-19 Surveillance Border Study | October 2020 |
| Knowledge synthesis network | October 2020 |
| Evaluation of harm-reduction approaches to address the opioid crisis during COVID-19 | October 2020 |
| Canadian Longitudinal Study on Aging (CLSA) | November 2020 |
| Canadian Network of COVID-19 Clinical Trials Networks | November 2020 |
| Emerging COVID-19 research gaps and priorities - I | November 2020 |
| Supplementary funding – COVID-19 variants | February 2021 |
| Network for Emerging Variants | February 2021 |
| Emerging COVID-19 research gaps and priorities - II | March 2021 |
| Canadian Treatments for COVID (CATCO) trial – supplementary funding | March 2021 |
| Understanding/mitigating the impact of COVID-19 on children, youth and families | June 2021 |
| COVID-19 vaccine confidence | June 2021 |
| Emerging COVID-19 Research Gaps and Priorities - III | July 2021 |
| COVID-19 Research Gaps and Priorities | July 2021 |
| Addressing the Wider Health Impacts of COVID-19 | September 2021 |
| Extension to the COVID-19 Evidence Network to Support Decision-making (COVID-END) | October 2021 |
| Indigenous COVID-19 Rapid Research Funding Opportunity II | October 2021 |
| Drug Safety and Effectiveness Network (DSEN) targeted research | December 2021 |
| Grant extension for CoVaRR-Net | December 2021 |
| Respiratory Health Effects of Long COVID | December 2021 |
| Canadian Pediatric COVID-19 Research Platform | January 2022 |
| Science Up First | March 2022 |
| Canadian Network of COVID-19 Clinical Trials Networks (CNCCTN) Extension | April 2022 |
Investments across Canada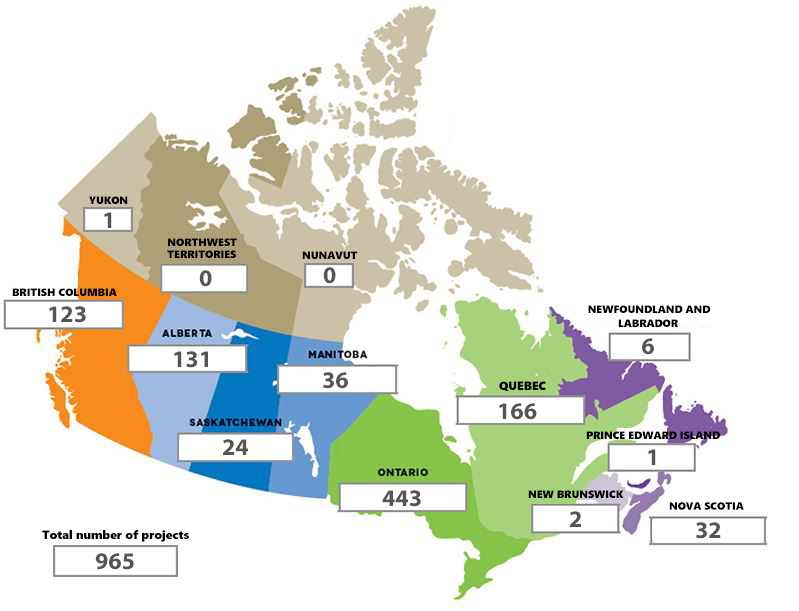 Long Description

| Province/Territory | Number of projects |
| --- | --- |
| Alberta | 131 |
| British Columbia | 123 |
| Manitoba | 36 |
| Newfoundland and Labrador | 6 |
| New Brunswick | 2 |
| Northwest Territories | 0 |
| Nova Scotia | 32 |
| Nunavut | 0 |
| Ontario | 443 |
| Prince Edward Island | 1 |
| Quebec | 166 |
| Saskatchewan | 24 |
| Yukon | 1 |
Partner Investments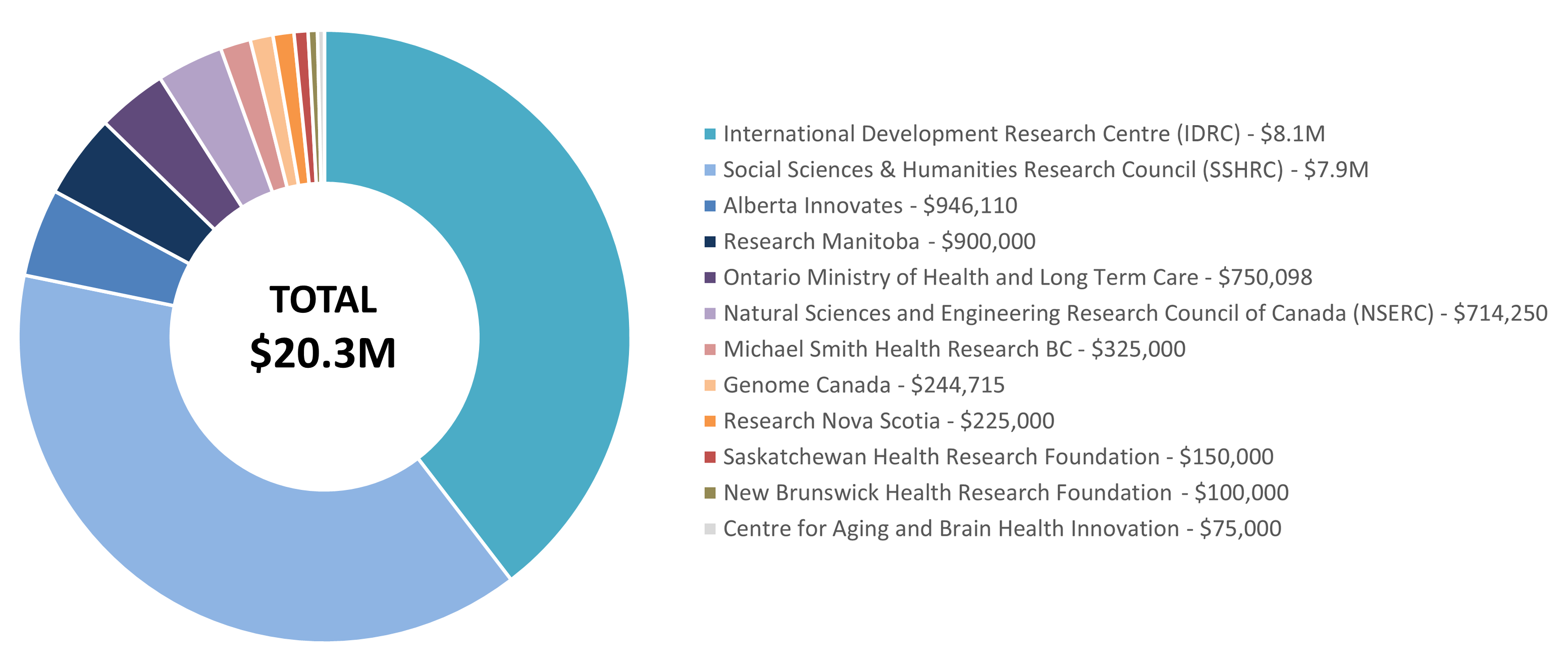 Long Description

| Partner | Funding amount |
| --- | --- |
| International Development Research Centre (IDRC) | $8.1M |
| Social Sciences and Humanities Research Council (SSHRC) | $7.9M |
| Alberta Innovates | $946,110 |
| Research Manitoba | $900,000 |
| Ontario Ministry of Health and Long-term Care | $750,098 |
| Natural Sciences and Engineering Research Council of Canada (NSERC) | $714,250 |
| Michael Smith Foundation for Health Research | $325,000 |
| Genome Canada | $244,715 |
| Research Nova Scotia | $225,000 |
| Saskatchewan Health Research Foundation | $150,000 |
| New Brunswick Health Research Foundation | $100,000 |
| Centre for Aging and Brain Health | $75,000 |
COVID-19 international linkages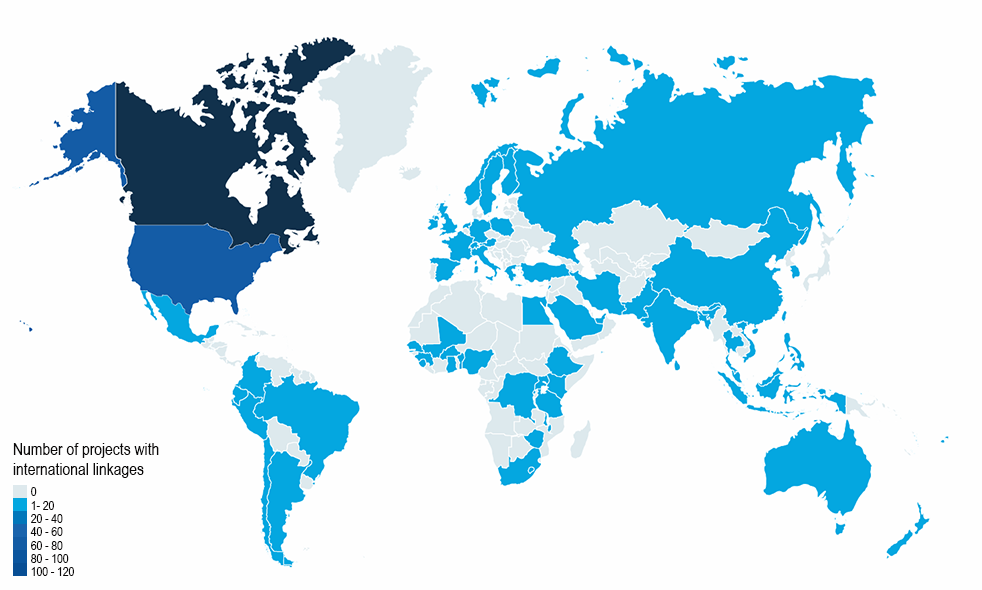 Long Description

| Country affiliation | N projects (Total) |
| --- | --- |
| Argentina | 1 |
| Australia | 16 |
| Australia; New Zealand | 1 |
| Austria | 2 |
| Bangladesh | 1 |
| Benin | 1 |
| Brazil | 9 |
| Burkina Faso | 1 |
| Chile | 2 |
| China | 12 |
| Colombia | 4 |
| Democratic Republic of Congo | 1 |
| Ecuador | 3 |
| Egypt | 1 |
| Ethiopia | 1 |
| Finland | 1 |
| France | 6 |
| Germany | 4 |
| Ghana | 1 |
| Greece | 1 |
| Guinea | 1 |
| Hong Kong | 5 |
| India | 7 |
| Indonesia | 1 |
| International | 13 |
| Iran | 1 |
| Ireland | 1 |
| Italy | 4 |
| Kenya | 2 |
| Lebanon | 1 |
| Lesotho | 1 |
| Malawi | 1 |
| Malaysia | 1 |
| Mali | 2 |
| Mauritius | 1 |
| Mexico | 5 |
| Netherlands | 4 |
| New Zealand | 3 |
| Nigeria | 1 |
| Norway | 3 |
| Pakistan | 2 |
| Peru | 1 |
| Philippines | 4 |
| Poland | 1 |
| Russia | 2 |
| Rwanda | 1 |
| Saudi Arabia | 2 |
| Senegal | 1 |
| Sierra Leone | 2 |
| Singapore | 3 |
| South Africa | 4 |
| South Korea | 1 |
| Spain | 3 |
| Sri Lanka | 1 |
| Sweden | 5 |
| Switzerland | 2 |
| Tanzania | 2 |
| Thailand | 3 |
| Turkey | 1 |
| Uganda | 1 |
| United Arab Emirates | 2 |
| United Kingdom | 16 |
| United States | 61 |
| Vietnam | 2 |
| Zimbabwe | 1 |
Date modified: