A new vision: Dene First Nations perspectives on healthy housing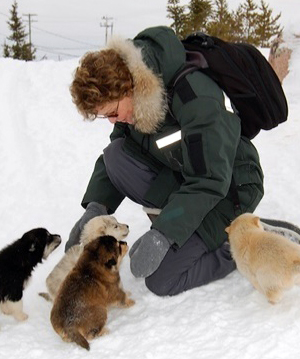 Inadequate housing conditions contribute to an array of respiratory infections, tuberculosis, chronic illnesses and mental illness. The research of Dr. Linda Larcombe at the University of Manitoba with Northlands Denesuline and Sayisi First Nations in northern Manitoba is focused on re-envisioning housing design for promoting health.
Data from a study with Northlands Denesuline showed that crowding and inadequate ventilation were associated with tuberculosis. This project tapped into the creative energies of university architecture students and Dene senior-high students to envision and articulate Dene healthy housing so that concepts/plans/designs can be ready for future funding interventions. This strategy of exploring deep, foundational, culturally held concepts of housing need to be prioritized in the current climate where improved housing conditions are critical for limiting the spread of infectious diseases.
"Interventions to stop the transmission of infectious diseases such as TB need to address inadequate housing conditions that northern First Nations people continue to experience. The Dene have a deep knowledge and understanding about what does and does not work in their community and environment. They identified that existing housing designs do not support the Dene way of life, traditions, language, values or beliefs and the lack of cultural identity in their housing affects physical and mental well-being. The housing designs this project developed are described in "Sekuwe (My House): Dene First Nation's Perspectives on Health Homes". The Dene are taking the lead to envision healthy houses that sustains their cultural needs, their health, and respects their local environment."
Associated links
Date modified: