New Year's message from Dr. Michael Strong, President, CIHR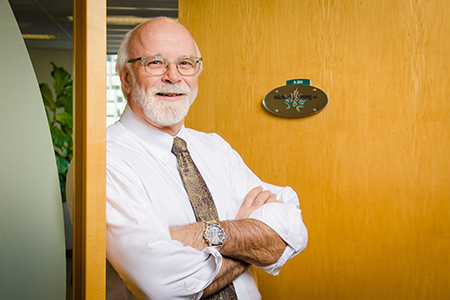 Dear colleagues,
As we enter into a new decade, I want to wish all of you great success with your future plans and dreams, both personal and professional. I also want to take this opportunity to thank all of you who have given so graciously of your time to assist us over the past year in developing a new strategic plan that lives up to the enduring goals of those who founded CIHR.
This year will be the 20th anniversary of the founding of CIHR. While this 20-year journey has not been without the occasional struggle, when we look at the big picture, CIHR is truly a Canadian success story, replete with accomplishments across all domains of our research enterprise. There is a commitment in CIHR that I see and hear every day, whether it be in the tireless efforts of our CIHR employees, or the seemingly endless support that my colleagues and I receive when we reach out for your opinions and assistance. The ability to have deep and meaningful debates about the future of CIHR and how we live the values embedded in our mandate reflects this sense of pride and personal commitment. Over the past year, the critical commentaries about the pathway that we have embarked on have shaped – and will continue to shape – how CIHR moves forward. This conversation will continue as we complete the strategic planning process and move to more deeply engage with the health research community and all of our partners to tackle the most pressing health research issues of our time.
I look forward to continuing to meet with as many of you as I can, as I continue to visit campuses and seek input on how we can best deliver on CIHR's mandate and vision. I also look forward to sharing with you as much information as is needed to ensure that we have a common understanding of the realities and challenges that we face as the only federally-mandated agency whose sole responsibility is to improve the health of Canadians through research. As many of you will have noted, addressing these challenges will require us to become more deeply engaged partners with our sister agencies across the federal Health Portfolio, as we collaborate to address the critical health issues that affect our nation. This engagement, however, extends well beyond just our Health Portfolio; it is an engagement mandate that is clearly reflected in our Minister's mandate letter. As this evolves, we will be reaching out to you for even greater assistance.
This year will also see the completion of the reboot of our Governing Council, now fully populated with an array of accomplished leaders who bring a wealth of experience to our table. I am excited to continue to work closely with the Governing Council and its Chair, Professor Jeannie Shoveller, as we guide CIHR into this next decade. We know that this will be a year of difficult choices at CIHR; having such support will be invaluable as we make these important decisions about our future. When coupled with the breadth of skills brought to the table by our Scientific Directors – each of whom is contributing beyond any measure of dedication – CIHR is well positioned to advance with confidence into this next decade.
On a personal note, I want to thank all of those who reached out to offer their support to me over this past year, as I continue to serve in this role on your behalf. Your kind thoughts and words in times of challenging decisions (as well as in times of success) have meant more than you can imagine. It is an honour and privilege to lead CIHR, a privilege that I am reminded of every day through these interactions.
I wish all of you a happy New Year!
Sincerely,
Michael J. Strong, MD, FRCP, FCAHS, FAAN
President, CIHR
Date modified: