Study: reducing heart attack and stroke rates thanks to data analysis and patient involvement
It can be time-consuming for researchers to access data relevant to their work. Fortunately, Dr. Scott Garrison has received help from the Alberta SPOR SUPPORT Unit, allowing him to focus on the important business of preventing heart attacks and strokes.
Dr. Garrison, an associate professor at the University of Alberta, learned of a 2010 Spanish study that suggested if patients took their blood pressure medication at night rather than in the morning, they could halve their risk of heart attacks, strokes, and death. It motivated him to create the BedMed study to investigate this finding among Canadian patients.
After developing invitation letters for doctors to send to patients in Alberta, Dr. Garrison received funding from a CIHR SPOR Innovative Clinical Trials grant to expand his study to British Columbia and Manitoba. So far, he has recruited over 1,500 patients.
"If patients are selected to change when they take their blood pressure medication, their family doctor helps them make those changes," said Dr. Garrison. "Then we share a list of consenting participants with the Alberta SPOR SUPPORT Unit every four months to get some helpful comparative information to advance our research."
Created in 2013, and based at Alberta Innovates, the Alberta SPOR SUPPORT Unit assists researchers in seven core platforms: patient engagement; methods support and development; knowledge translation; pragmatic clinical trials; career development; consultation and research services; and data access/analysis (as in the case of Dr. Garrison's BedMed study).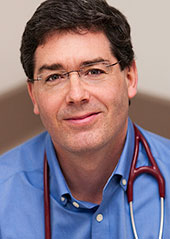 Dr. Finlay McAlister, a professor in the Division of General Internal Medicine at the University of Alberta and lead of the data platform, responds to Dr. Garrison's quarterly requests and believes that BedMed could help improve SPOR's statistical analysis for researchers.
"Traditionally in Canada, all outcomes for patients in randomized trials have been acquired through face-to-face meetings with research personnel, which is a time-intensive and costly process," said Dr. McAlister. "With patients' consent, the Alberta SPOR SUPPORT Unit Data Platform can now look at hospital and emergency room records for trial-relevant outcomes (like heart attacks, strokes, or deaths) and compile information much faster for researchers, like Dr. Garrison. Through BedMed, he is also helping to ensure that patient priorities are taken into account in the direction of the research." 
Dr. Garrison has also developed a partnership with a 10-member patient working group for BedMed. Two members include David Nichiporik, a man who suffered from high blood pressure, and his wife Christine, a former pharmacist.
"Dr. Garrison puts his heart and soul into this research and respects any input we can give," said Mr. Nichiporik. "When he developed a brochure to recruit more patients for BedMed, for instance, he recognized that our suggestion to reduce the amount of information and change the colour may be good ideas."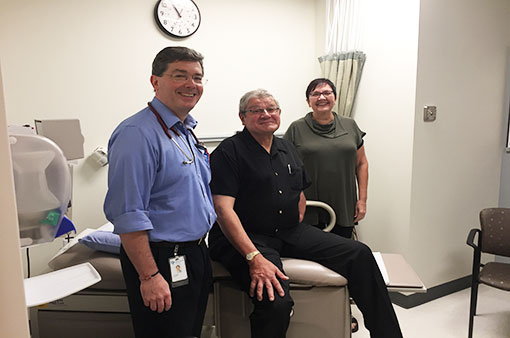 "Patients may not have been signing up as BedMed participants through the letters alone because the letters provided too much detail and also suggested changes to their medication routines ," added Mrs. Nichiporik.
Increased patient participation as well as quarterly reports from the Alberta SPOR SUPPORT Unit Data Platform will help Dr. Garrison realize his research goals.
"It will help us know exactly when to stop our BedMed research," said Dr. Garrison. "There will be no guess work involved about whether it's best for patients to take their blood pressure medication at night."
Dr. McAlister thinks there could also be cost savings for the Canadian health system.
"Dr. Garrison's work is not testing a new blood pressure medication that costs more money for patients," said Dr. McAlister. "He may actually improve their health outcomes by demonstrating that it's best to take the same medications 12 hours later."
What is SPOR?
The Strategy for Patient-Oriented Research (SPOR) is a collection of funding partnerships between the Canadian Institutes of Health Research, provinces and territories, philanthropic organizations, academic institutions, and health charities. At its core, SPOR is about providing the evidence needed to inform the development of health policies and improve the health care system. It is about putting scientific discoveries into practice, and producing the information decision-makers and health care providers need to improve patient care.
Date modified: