Environments and Health Data Enhancements Research Component – Consultation Summary Report
Context
The Canadian Institutes of Health Research (CIHR), led by the CIHR Institute of Circulatory and Respiratory Health (CIHR-ICRH), undertook consultations with diverse stakeholders including scientists, government and non-governmental organisations to identify features of a funding program through which data challenges in the field of environments and health could be addressed. In part, these consultations channelled through a Working group with experts from government and academia, as well as with several dozen scientific experts and data custodians in government agencies (e.g. Statistics Canada, Health Canada, Environment Canada, and the Public Health Agency of Canada), academia, and non-governmental organisations. In addition to bilateral and multi-lateral discussions, CIHR-ICRH hosted a one-day Data Platforms Consensus Meeting on December 1, 2014, in Montreal, Quebec.
Key Research Challenges
The following key research challenges and needs were identified during broader consultations of the Environments and Health Signature Initiative (EHSI), including a National Forum (May 2013) and the aforementioned consensus meeting on Data Platforms:
The need to move research from understanding associations to defining mechanisms of environmental influence that can be acted upon.
The challenge of measuring exposure to multiple and cumulative exposures to different risk factors that interact, and are unevenly distributed across time, space, populations and the life course.
The need for Canada to take full advantage of existing health cohorts and relevant environmental data platforms by sharing complex data sets across jurisdictions and using this data to drive and expand research opportunities by enabling access relevant 'analysis-ready' data;
The need to bridge measurement approaches and techniques developed and used in diverse fields (i.e. toxicology, eco-health, green chemistry, etc.) by bringing together presently scattered expertise (including in data analytics and modeling) to improve exposure measurement, health risk modeling and assessment.
The need to increase capacity and training opportunities for skills development in cross-disciplinary and environmental health ('big data') research.
Conclusions
Feedback from the consultations can be summarized as follows:
In a context where 80% of Canadians presently live in urban areas and a significant majority of existing environmental (quality) indicators fall within the urban environment, a funding opportunity with a research focus on the Urban Form Nexus would maximize impact of resources and have the greatest interest and potential for alignment with the research priorities of multiple stakeholders. Some priority areas identified were in air quality, built environment and climate change as they related to Urban Form.
To maximize value, it is essential to bring together scientific and other expertise from a wide variety of disciplines and fields from academia, government, charities and industry to focus on specific research priorities that can only be addressed through interdisciplinary and intersectoral research.
A 'data and methodological hub' should be developed where environmental researchers could collaborate with cohorts and health researchers on focused health projects using innovative measurement models and 'analysis-ready' data. Once functional, this 'hub' could also serve as a platform for data relevant to the other two EHSI Nexus (resource development & agri-food production), as well as a unique, world-class resource for environmentally focused research in Canada.
To engage potential collaborators, data 'holders' including cohorts, researchers (both from health & environment), and partners, a research consortium with a focused urban environmental health research agenda would best align support, leverage existing initiatives and optimize the chances of success.
Outcome
Consultations led to the development of a proposal to develop a funding opportunity to create a Canadian Environmental Urban Health Research Consortium (the 'Consortium') to bring together scientific and other expertise from a wide variety of disciplines and fields to focus on the impact of the urban environment on health.
Such a Consortium will develop a comprehensive, national research program that will address key urban environmental health issues that can only be addressed by multi-disciplinary, collaborative research. A Consortium will also help to meet the specific needs of the following groups:
Researchers seeking one-stop access to 'analysis-ready' environmental data particularly relevant to the Urban Form Nexus (i.e. air quality, active and passive transportation, green/natural spaces, land use data and policies, climate change/extreme weather, etc.) and models/methods/analytics to assess environmental exposure to address specific health research questions;
Cohort studies/health platforms seeking to add environmental data to existing health data in order to expand the potential for these datasets to be used to address specific health research questions.
Government agencies (federal, provincial, municipal) seeking to facilitate policy-related environmental health research presently outside of the scope/expertise of internal projects;
Early-career scientists seeking to gain training and skills in exposure assessment and methods and the use of innovative data tools and analytics for environmental health and policy research; and
Public and private organizations seeking one-stop access to a network of leading Canadian scientists to conduct research in the field of Environmental Health.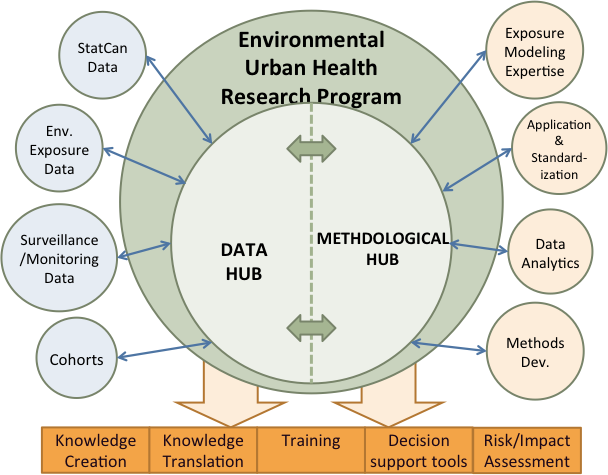 Resource Material
In the context of the development of this funding initiative, CIHR considered multiple other national and international initiatives as potential guiding examples and contributing factors to the success of the Consortium. These include, but are not limited to the following. Links are included for reference.
Key resource for potential applicants
Other external resources
Other relevant links on data
Date modified: