In Memoriam: The Honourable Michael Wilson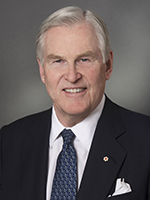 The Canadian Institutes of Health Research (CIHR) is very saddened to learn of the passing of The Honourable Michael Wilson.
Mr. Wilson served as Vice-Chair of CIHR Governing Council from 2012 to 2018. During his time with CIHR, he demonstrated the knowledge, expertise, and leadership skills that earned him so much success throughout his distinguished career in the financial sector and in government.
CIHR benefited enormously from Mr. Wilson's extensive experience and wisdom. His ability to ensure robust discussion and build consensus among Governing Council enabled the organization to focus on its core mission.
Mr. Wilson's intelligence and passion for health research – and mental health research in particular – earned him the respect of his Governing Council colleagues and the entire CIHR organization. However, it was his deep compassion and desire to help others that made the greatest impression and inspired those around him.
On behalf of Canada's health research community, we offer our deepest condolences to Mr. Wilson's family, friends, and colleagues.
Date modified: